March 5, 2021
WOAS-FM sponsors S4SD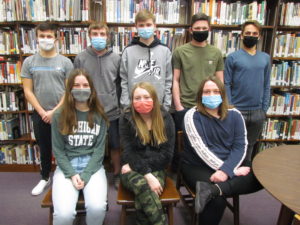 S4SD 2021 Campaign
So what exactly is S4SD? The full name of the program is Strive 4 a Safer Drive. Six years ago, the Ontonagon Area School owned FM radio station, WOAS-FM 88.5, was looking for a way to engage student DJs in some form of community service. With sponsorship by the Ford Motor Company and the State of Michigan Department of Transportation, the S4SD program was designed to encourage creation of student driven Public Service Announcements (PSAs) to raise awareness about safe driving practices. WOAS-FM applied for one of the $1000 grants to produce a campaign combating distracted driving. The local program is known as Don't be Distracted and it has been funded for the sixth consecutive year. Abbreviated DbD6, this year's program is now officially underway and the DJs volunteering for the program can be seen sporting their distinctive logo shirts in this year's color scheme: Black on Orange
The Ontonagon Area Schools enlisted help from Ewen-Trout Creek Schools Art teacher Nina Fiorucci three years ago so the program could expand to both of the Ontonagon County school districts. When Mrs. Fiorucci began teaching Art to Ontonagon students last year, she was able to get her art students in both schools involved. This year, they developed the coloring pages used with the Elementary Art classes. OASD aide Betsy Guilbault is charged with organizing and overseeing the Ontonagon Art students who are now busy working on their contest entries. WOAS-FM Manager Ken Raisanen advises the student volunteers and aides in the button making department.
The S4SD – DbD campaign engages students in all grades through coloring, button making, or poster making contests. Winning entries submitted are recognized with gift certificates from either Connie's Place Ice Cream Shop, Syl's Cafe, or Peninsula Graphics, all from Ontonagon. Certificates from the first two establishments revolve around food while the last has become the program's source for logo T-shirts and signs. The S4SD – DbD logo was designed by Anna Fuller for the 2016 campaign and the steering committees from 2017 to the present decided it was iconic enough to keep it as a symbol or brand for the local campaign.
This year's submissions will be judged after March 12 and put on display at both the Ontonagon Area and ETC schools. The S4SD coordinating office decided that the various COVID-19 related interruptions warranted extending the deadline for this year's final reports to the end of April. When the winners are notified, all students will receive a black on orange
wristband as a 'thank you' for their participation and a reminder: drivers and passengers are put at risk by distracted driving. There are presently 22 schools participating across the state and Ontonagon is the sole representative from the Upper Peninsula this year.
Photo: This year's S4SD – DbD6 team from WOAS-FM include (front – l-r)
Ella Menigoz, Savannah Haapala, Paige Weisinger (back – l-r) Ryan Preiss, Steven Graff,
Top Piece Video:  Once again we call upon Sir Paul for help!