June 1, 2020
THANK YOU DJs!
WOAS-FM 88.5 would like to take a minute to acknowledge the student DJs who comprised the day shift this past year.  While it is disappointing that they were not able to finish the year because of the you-know-what pandemic, they progressed rapidly in their radio skills and we will miss the graduating seniors.  We wish them all the best and are already looking forward to the underclass volunteers stepping up no matter what the next year brings.
Shown left to right (SENIORS in CAPS):
AUSTIN WALTERS, Ike Bramlett, BRANDON WESTIE, STEVIE OLLILA, AILEE GRAFF, Savannah Haapala, and ANNA WISEMAN. (Not pictured:  DOMINIQUE HAMM).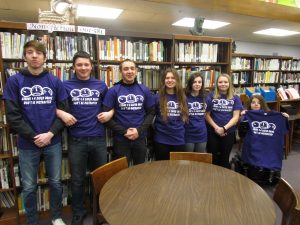 Top Piece Video – How can we NOT let Uncle Alice end the school year . . .?