October 28, 2022
Meet the WOAS-FM Day Shift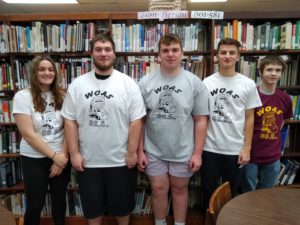 Photo:  (l-r) Halley Floyd, Austin Razmus, Mason Totzke, Will Immonen, and Matt Immonen make up the day shirt at WOAS-FM for the 2022-23 school year.
     When WOAS-FM 88.5 went on the air in December of 1978, there was a good size pool of student volunteers lined up to act as DJs.  Students who had been involved in building the station from scratch were naturally excited to finally get a chance to spin some tunes.  They were literally 'spinning tunes' because the DJ equipment forty plus years ago included two table top turntables and reel-to-reel tape machines.  Let us not forget the 8-track cartridge machine that was used for Public Service Announcements (PSAs) and short features.  School staff and members of the public filled out the schedule that would start at 7 a.m. and run well into the evening hours.
     Up through the early 1990s, there were always students eager to take a turn working at the station to escape sitting in a study hall.  Study Hall used to be a regular part of the school schedule so filling the seven day shift hours was never a problem.  Ken Raisanen assumed the duties as the station's General Manager in 1997 and in the years since, the number of study hall periods offered in the schedule shrank and eventually disappeared altogether.  With a smaller student population and fewer staff members, the schedule has been consolidated enough to make it difficult for students to schedule an hour for radio during the school day.  Part of the day shift is now covered with recorded (or as we call it in the radio game, 'canned') programming which airs between the live DJ shifts.
     This year, the five students who make up the dayshift are all newbies, but from their introduction to the studio through the end of the first marking period, they have picked up on things very quickly.  Matt Immonen does not DJ a show during the day but he is the most important member of the staff this year.  It is Matt's job to get the station on the air each morning so WOAS is up and running before the first live DJs come in around 11:30 a.m.  Halle Floyd was the first DJ to volunteer to work at the station this year so she was asked if she would be willing to also serve as the Assistant Manager.  The other new DJs include Austin Razmus, Mason Totzke, and Will Immonen.  Mr. Raisanen is a retired Ontonagon Area Schools teacher but he still volunteers as the station's GM.  Library aide Betsy Guilbault serves as the station's in-house contact and she and the GM work as a team to keep things on an even keel.
     WOAS-FM currently has two live DJs on the air from 7-10 p.m. on Tuesdays (Tammy Kero with Tammy K's show) and Fridays (Lee McCaffery's Nightflier show).  The rotating evening schedule features blues on Monday and Folk and Americana music on Wednesdays.  Thursdays are left rather wide open with a format we simply call 'Free Form Radio'.  If you love music and might be interested in a slot (any day of the week from 4 to 7 p.m. or an evening show on Monday, Wednesday, or Thursday), contact GM Raisanen at kraisanen@oasd.k12.mi.us or leave a message at 906 813 0614 Ext 113.  The training time is minimal and we are always open to hearing new voices on 88.5.  The station's audio and webcam feed can also be found at www.woas-fm.org.  Come on and join the fun, but be forewarned:  Sharing music over the air is addicting.
\Top Piece Video:  It isn't a Jungle, but Welcome to WOAS anyway!!